This is the page where we collect all of the information about the Bore, our home away from home.
Features and Facilities
Edit
Level 1, Main drill engine and exhaust Edit
This level has the main engine that drives the drill itself.
.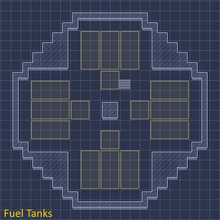 Level 2, Fuel Tanks Edit
Fuel tanks full of high-energy fuel for the bore. No smoking.
You reach this level by using the ladder.
.
Level 3, Cargo hold, hanger, airlock, Generator, Air Scrubber, Brig and main elevator Edit
Main entry point to the bore. There's a crawler in the hangar and ample room for cargo, an air srubber so we don't suffocate and a generator so we have power. Also a brig for if any of you get rowdy.
You reach this level by using the ladder.
.
Level 4, Sick bay, Crew quarters, Common room, Sanctuary, Workroom, Archive, Coms arm and Leg Engines Edit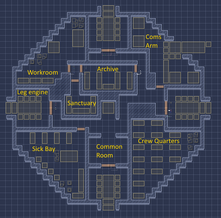 The main living accomodarions. Sleeping quarters, medbay for stitching you back together and a workshop for stitching other things together. Sanctuary for Divers to get themselves killed, a commons room to wrec and archive for the bookworms. 
Also has the comms arm, a mechanical arm that lays a hard coms line in as you descend. Radio won't work except at short range so thats your lifeline.
The four main leg engines are also situated here.
.
Level 5, Cannons and Sensor arrays Edit
Cannons! Manually loaded and aimed by positioning the drill from the bridge. Pack quite a punch, try not to stand between them and the monsters.
.
Level 6, Bridge Edit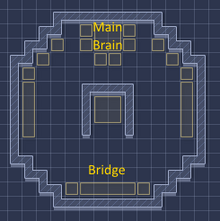 This is the control center of all this high tech wizardry. The automap sits here, which will track our progress and print out the data about it on metal punch plates. Once you have a full one, you put  in a blank and bring the finished one to the archives.
Ad blocker interference detected!
Wikia is a free-to-use site that makes money from advertising. We have a modified experience for viewers using ad blockers

Wikia is not accessible if you've made further modifications. Remove the custom ad blocker rule(s) and the page will load as expected.